What is our Endocannabinoid System (ECS)?
The endocannabinoid system (ECS) is a biological system that was first discovered in the late 1980s and early 1990s.
The ECS is largely comprised of endocannabinoids, receptors, and enzymes that are believed to help regulate a variety of functions in human including sleep, mood, memory, appetite, reproduction, and pain sensation. Scientists still have plenty of questions about the human endocannabinoid system and how it functions.
The endocannabinoid system (ECS) is a biological system that was first discovered in the late 1980s and early 1990s.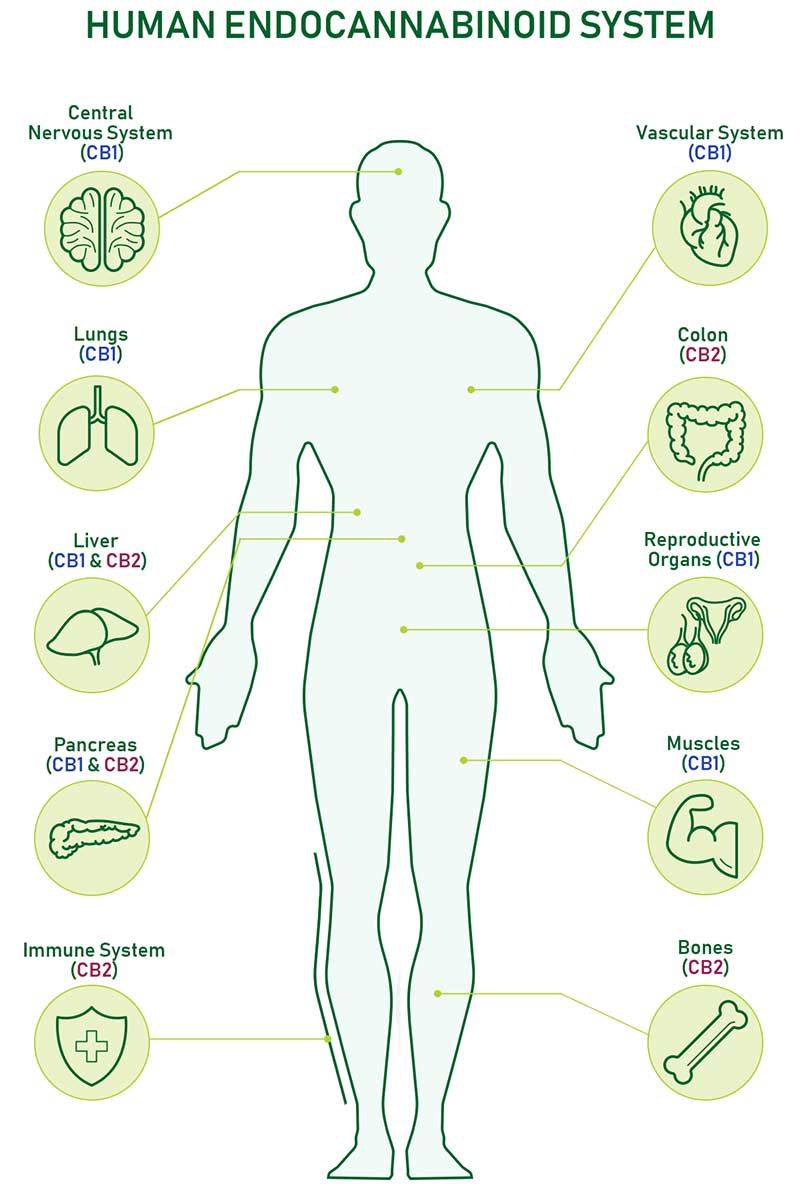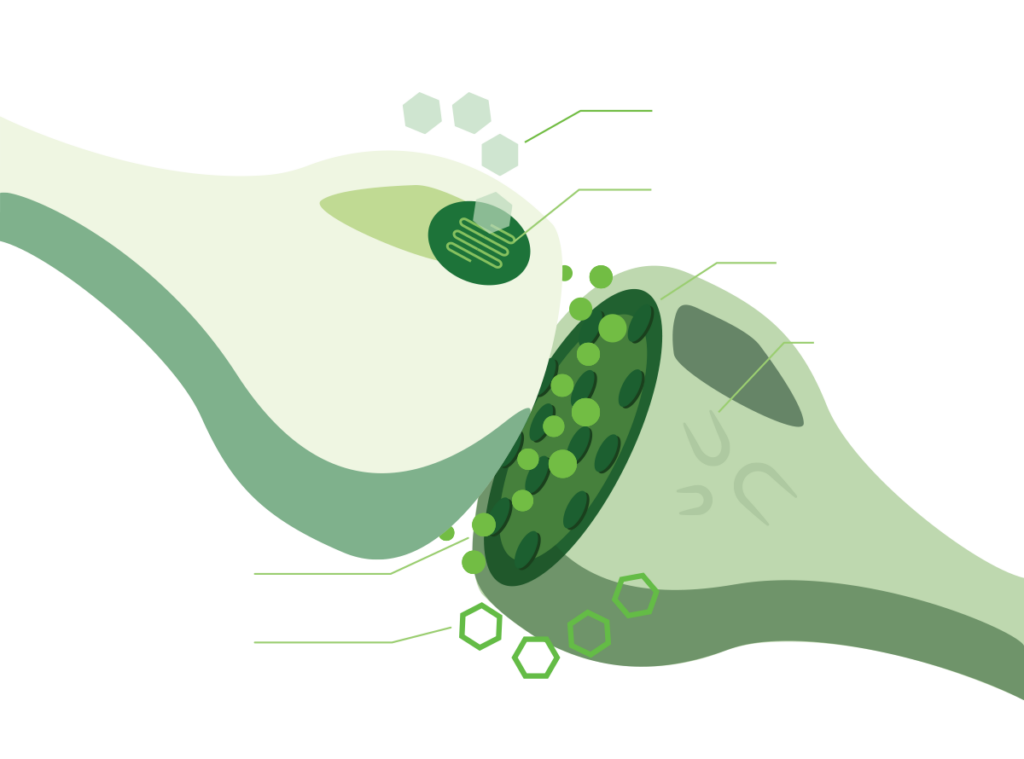 The three key components of the human endocannabinoid system (ECS)  are:
Cannabinoid receptors – located on the surface of cells

Endocannabinoids – small molecules that activate cannabinoid receptors

Metabolic enzymes – break down endocannabinoids after they are used
2 Major Cannabinoid Receptors
A receptor site located in the brain, spinal column and central nervous system that responds to cannabinoids, particularly the THC molecule, which has more of a lock-and-key type affect due to its psychoactive properties.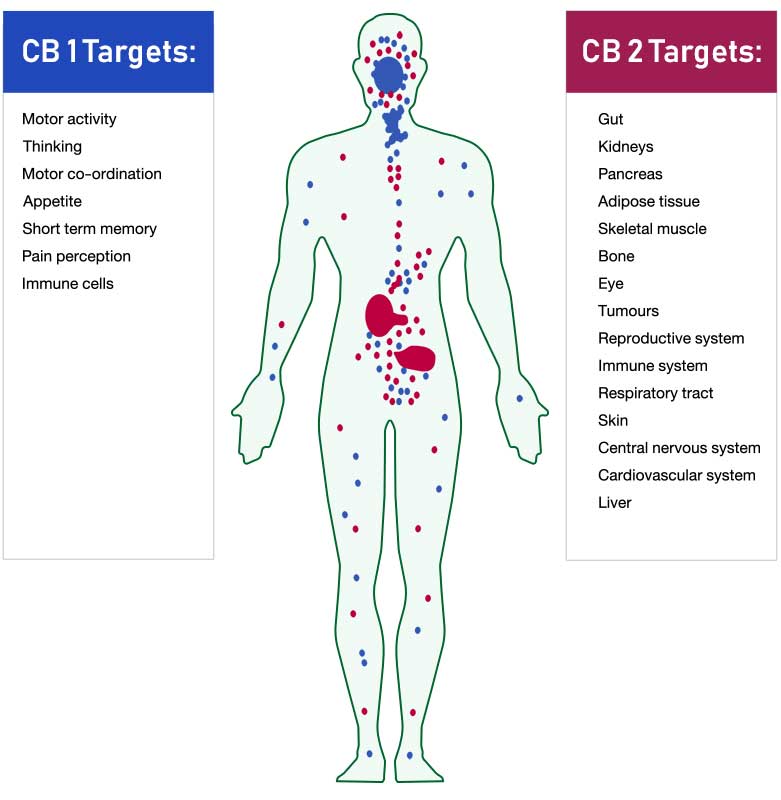 A receptor site located in the gut or internal organs of the body that is mainly expressed in immune tissues, which suggests the possibility that certain cannabinoids may modify the immune response or the functioning of the immune system.
Cannabinoids (e.g., THC and CBD) are the chemical compounds discharged by cannabis flowers that provide therapeutic value to a number of ailments including pain, nausea, anxiety, and inflammation. They work by imitating compounds our bodies naturally produce, called endocannabinoids, which activate to maintain internal stability and health. In other words, cannabinoids mediate communication between cells when there is a deficiency or problem with our endocannabinoid system or if unpleasant symptoms and physical complications emerge.
When you consume cannabis, cannabinoids bind to receptor sites throughout our brain, (CB-1 Receptor) and our body (CB-2 Receptor). Different cannabinoids have different effects depending on which receptors they bind to. For example, THC (Tetrahydrocannabinol) binds to receptors in the brain whereas CBN (cannabinol) has a strong affinity for CB-2 receptors located throughout the body. Depending on a cannabis product's cannabinoid profile, different types of relief are achievable.
The Cannabis plant contains at least 150 different cannabinoids, many of which have documented medical value. Products and strains are being developed to deliver larger doses of different cannabinoids, so it's important to understand which types best treat your symptoms.
What are Cannabis Terpenes?
Terpenes are located in the trichome glands that produce cannabinoids such as THC and CBD, terpenes are aromatic oils that give cannabis varieties of colors as well as distinctive flavors like citrus, berry, mint, and pine. There are over 100 different types of terpenes in the cannabis plant and are believed to play an important role in varying the effects of various cannabis strains.
Some terpenes are said to promote relaxation and help with stress-relief, while others potentially promote focus and acuity. Any given terpene's effect profile may change in the presence of other compounds, which is known as "the entourage effect."
Most Common Types of Cannabis Terpenes